Hurricanes, wildfires made 2017 the most costly [WORST] U.S. disaster year on record
By Chris Mooney By Chris Mooney
January 8 at 11:23 AM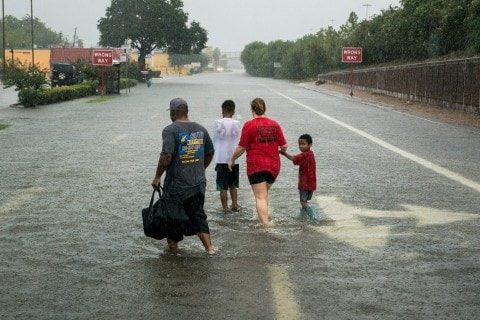 People walk through floodwater near interstate 10 in Houston on Sunday, Aug 27, 2017 in the wake of Hurricane Harvey. (Photo by Jabin Botsford/The Washington Post)
Hurricanes Harvey, Irma and Maria combined with devastating western wildfires and other natural disasters to make 2017 the most expensive year on record, the National Oceanic and Atmospheric Administration reported Monday.
The disasters caused $306 billion in total damage in 2017, during with 16 separate events caused more than $1 billion in damage each.
"2017 was a historic year for billion dollar weather and climate disasters," said Adam Smith, an economist for NOAA, on a press call with reporters.
The record-breaking year raises concerns about the effects of future natural disasters, as scientists fear climate change could make extreme weather events more damaging in the future. [It is HAARP CAUSING the Disasters/men causing the Disasters via HAARP, NOT climate change]
Hurricane Harvey, which included extreme flooding in Houston and the surrounding area in August and September, caused $125 billion in damage, the year's most expensive disaster. Hurricane Maria, which in September set off a fatal and ongoing humanitarian crisis in the U.S. territory of Puerto Rico and elsewhere, caused $90 billion in damages. Hurricane Irma hit Florida in September and caused $50 billion in total damages, NOAA reports.
The storms also caused 251 combined deaths, the report found. According to Smith, hurricanes Harvey, Irma, and Maria now join 2005's Katrina and 2012's Sandy among the top five most costly U.S. hurricanes on record.
Western wildfires cost $ 18 billion and caused 54 deaths, the report found. Other large costs came from tornadoes, droughts, severe weather events, flooding and other causes.
The previous most expensive year in history was in 2005, when disasters — including Hurricane Katrina — caused $215 billion in U.S. damage when adjusted for inflation. NOAA's record of billion-dollar natural disasters goes back to 1980.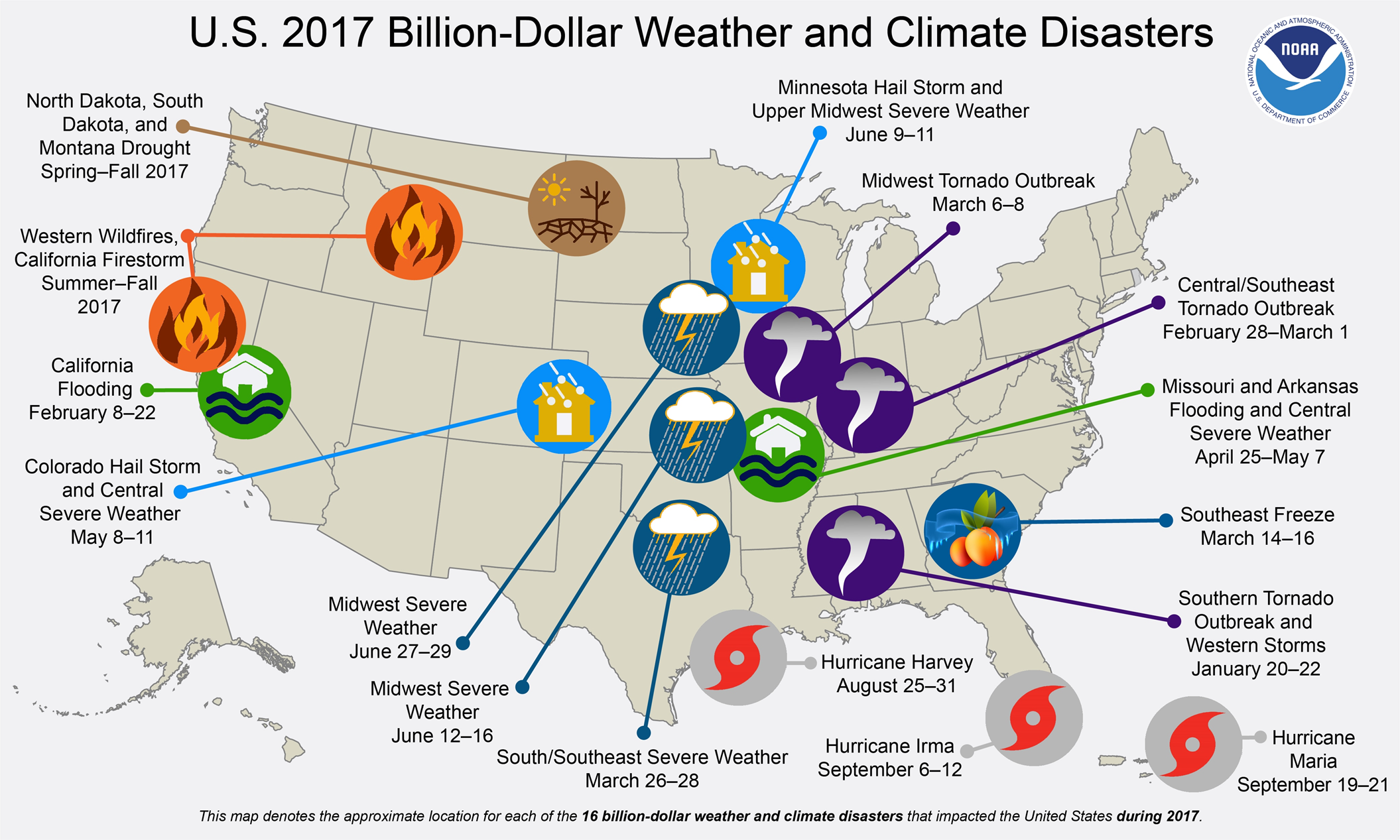 (NOAA)
According to NOAA, there have been 215 U.S. disaster events costing $ 1 billion or more since the year 1980, for a total of more than $ 1.2 trillion in damages. 2017 tied 2011 for the largest total number of such events, at 16.