Corporations are People and robots are People
vs
Only Human Beings are People
Could an artificial intelligence be considered a person under the law?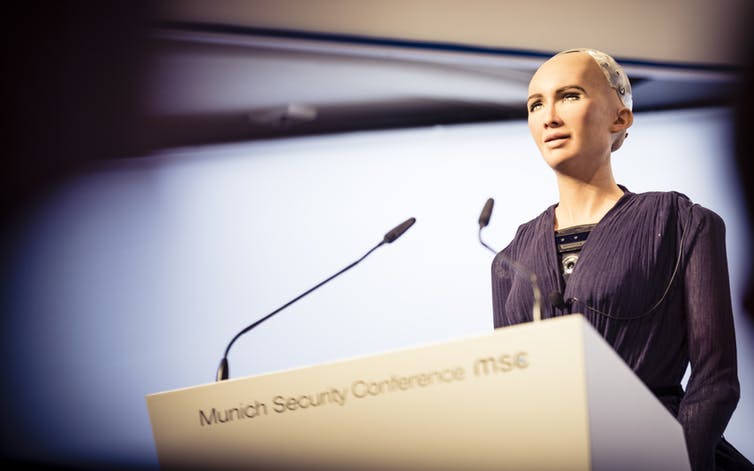 Sophia, a robot granted citizenship in Saudi Arabia. MSC/wikimedia, CC BY
Courtesy of Roman V. Yampolskiy, University of Louisville
Humans aren't the only people in society – at least according to the law. In the U.S., corporations have been given rights of free speech and religion. Some natural features also have person-like rights. But both of those required changes to the legal system. A new argument has laid a path for artificial intelligence systems to be recognized as people too – without any legislation, court rulings or other revisions to existing law.
Legal scholar Shawn Bayer has shown that anyone can confer legal personhood on a computer system, by putting it in control of a limited liability corporation in the U.S. If that maneuver is upheld in courts, artificial intelligence systems would be able to own property, sue, hire lawyers and enjoy freedom of speech and other protections under the law. In my view, human rights and dignity would suffer as a result.
The corporate loophole
Giving AIs rights similar to humans involves a technical lawyerly maneuver. It starts with one person setting up two limited liability companies and turning over control of each company to a separate autonomous or artificially intelligent system. Then the person would add each company as a member of the other LLC. In the last step, the person would withdraw from both LLCs, leaving each LLC – a corporate entity with legal personhood – governed only by the other's AI system.
That process doesn't require the computer system to have any particular level of intelligence or capability. It could just be a sequence of "if" statements looking, for example, at the stock market and making decisions to buy and sell based on prices falling or rising. It could even be an algorithm that makes decisions randomly, or an emulation of an amoeba.
Reducing human status
Granting human rights to a computer would degrade human dignity. For instance, when Saudi Arabia granted citizenship to a robot called Sophia, human women, including feminist…
By ilene
Posted: October 5, 2018 - 2:16pm