WARNING: The Government Satanists ARE planning to starve us into submission by having total control of all FOOD through Executive Order 13603. So you MUST buy survival food, store it and hide it!
Clinton's Secret Task Force Will Use Starvation Against Americans Who Rebel Against a Stolen Election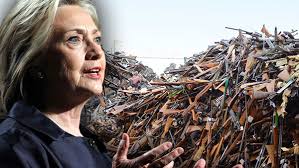 It is not just the guns that Hillary wants, she has been involved in high level meetings with Obama's DHS. After her election, she plans to use food quell and civil uprising in response to her stealing the election.
I have a high level inside source that tells me that plans have already been made for Hillary Clinton, the planned beneficiary of a stolen election, will use food to starve Americans into submission. Do I believe it? This is absolutely true. Forget for a moment, that I have a reliable source that says that Clinton was brought into a secret DHS/FEMA task force just this purpose, the actions of the government not only make this possible, but probable.
Here is the first case in point: In recent years the Federal Emergency Management Agency (FEMA) has been regionalizing disaster supplies and rapidly procuring hundreds of millions of ready-to-eat meals, blankets, and body bags. Combined with the DHS' suspiciously massive purchases of ammunition, one has to ask why are the Feds doing this?
In fact, the government has been buying so many supplies and in such large amounts that shortages have affected the world's leading manufacturers to the point they've been forced to suspend shipments to retail customers of survival foods and ammunition. This has been going on since 2013.
Hillary Is the Closer
In baseball, there are some applicable terms and strategies that applies to the globalist planned election of Hillary Clinton to the White House.
In 2008, when the elite were trying to determine who would be President, Obama or Clinton, both candidates disappeared to the Bilderberg meetings. In these meetings, Obama was selected to win the 2008 election. However, Obama was not chosen because he was the better candidate, he wasn't for what the globalists wanted.
In baseball, the goal of most managers is to get the starting pitcher to pitch seven strong innings. In the 8th inning, they bring in the setup guy. He is the pitcher that holds down the fort and sets up the closer for victory. In the 9th inning, the team brings in the closer. The closer is a devastatingly good pitcher and he will typically finish the job of the starting pitcher and the set up 8th inning pitcher. Obama was the 8th inning set up pitcher he has set the table, for Hillary Clinton to come in finish the job that Obama has started.
Executive Order 13603
In 2011, Obama enacted EO 13603 which allows for the introduction of slave labor and the control of all food into America. Here we are at the end of Obama's second term and he has not acted upon EO 13603. He was never supposed to. He enacted 13603 as the setup man. This EO is in place for Hillary Clinton.
I have also learned that DHS has stockpiled food and that Hillary Clinton, as Secretary of State attended operational planning meetings with DHS with regard to using food as a weapon against the American people who might engage in a civil uprising if the globalists steal the election in favor of their candidate, Hillary Clinton.
In short, here is the power that Clinton will have over who eats and who will die.
If Clinton is elected, she will soon have total and absolute control over all food where EO 13603 states:
e) "Food resources" means all commodities and products, (simple, mixed, or compound), or complements to such commodities or products, that are capable of being ingested by either human beings or animals, irrespective of other uses to which such commodities or products may be put, at all stages of processing from the raw commodity to the products thereof in vendible form for human or animal consumption. "Food resources" also means potable water packaged in commercially marketable containers, all starches, sugars, vegetable and animal or marine fats and oils, seed, cotton, hemp, and flax fiber, but does not mean any such material after it loses its identity as an agricultural commodity or agricultural product.
(f) "Food resource facilities" means plants, machinery, vehicles (including on farm), and other facilities required for the production, processing, distribution, and storage (including cold storage) of food resources, and for the domestic distribution of farm equipment and fertilizer…"
This unconstitutional EO is particularly disturbing in that it clearly states that the government has control over anything that is "capable of being ingested by either human beings or animals…" If you thought that you and your loyal dog, Fido, were going to get through the coming food crisis by storing and consuming dog food, think again.
How will farmers maintain the nation's food supply when all fertilizer, their farm equipment and all of their vehicles are under the control of this sociopathic President or the next power-hungry President?
The term "all food storage facilities" includes your refrigerator, your pantry and even the very food in your cabinets as well as what is on your kitchen table. In short, anywhere you keep food is now under the control of the government and can be redistributed.
This is the total control of food. It is good to have inside sources, but sometimes, you don't need them, you just need to know where to look for answer.
The Military Is Already Being Starved
In a case of "defend the nation and starve", military families are feeling even more stress from not being able to obtain sufficient quantities of food as 25% of America military families require outside assistance in getting enough to eat. What does this say about an administration which uses our soldiers to defend the nation and then kicks them to the curb by denying their VA health benefits as the government also starves their families because they cannot survive on what we pay our soldiers? This is disgraceful, but it is the Obama fundamental transformation of American way!
America Has No Way to Keep Up with Food Inflation
Late last year, the New York Times, stated that the typical American family is now worth 36% less than it was worth only 10 years ago! Shockingly, one out of every six men, ranging in ages from 25 to 54, are not employed. Median family income in the United States is 7% lower than it was in 2000.
There is no way that the majority of American families can keep pace with food inflation as the wages of Americans are now inversely correlated with the rising food prices. This is a prescription for disaster. The most vulnerable to starvation within the present economic climate are the children as an amazing twenty six percent of all children are living below the poverty level. With these kind of distressing statistics, a significant number of Americans are vulnerable to politically motivated "food blackmail" in these times of economic distress.
There is historical evidence that food vulnerability may have been planned for a long time by elements of the U.S. government.
The US Government and Its Food Deprivation Policies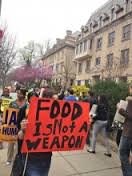 The genesis for Clinton's plan to seize guns and use food as a weapon in one all-encompassing action comes the Kissinger work on this problem decades ago.
The use of food as a political manipulation tool, by the U.S. government, has been a matter of official U.S. governmental covert policy since 1974-1975.
In December, 1974, National Security Council directed by Henry Kissinger completed a classified study entitled, "National Security Study Memorandum 200: Implications of Worldwide Population Growth for U.S. Security and Overseas Interests." The study was based upon the unproven claims that population growth in Lesser Developed Countries (LDC) constituted a serious risk to America's national security.
In November 1975 President Ford, based upon the tenets of NSSM 200 outlined a classified plan to forcibly reduce population growth in LDC countries through birth control, war and famine. Ford's new national security adviser, Brent Scowcroft, in conjunction with then CIA Director, George H. W. Bush, were tasked with implementing the plan and the secretaries of state, treasury, defense, and agriculture assisted in the implementation of these insane genocidal plans.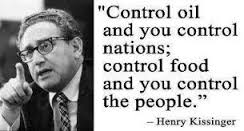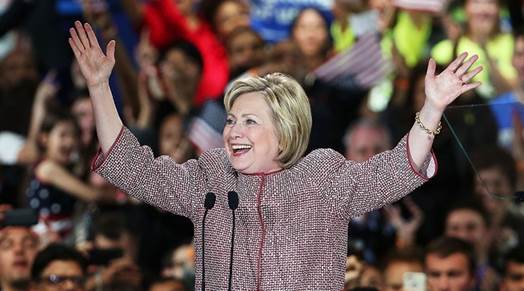 "I'm in"
NSSM 200 formally raised the question, "Would food be considered an instrument of national power? Is the U.S. prepared to accept food rationing to help people who can't/won't control their population growth?" Kissinger has answered these questions when he stated that he was predicting a series of contrived famines, created by mandatory programs and this would make exclusive reliance on birth control programs unnecessary in this modern day application of eugenics in a scheme that would allow Henry to have his cake and eat it too in that the world would finally be rid of the "useless eaters!"
Third world population control, using food as one of the primary weapons, has long been a matter of official covert national policy and a portion of President Obama's Executive Order 13603 (EO), National Defense Resources Preparedness is a continuation of that policy. Only now, the intended targets are not the LDC's, but are instead, the American people and after Obama declares martial law, food will undoubtedly be used to subjugate the more resistant regions of our country.
The lessons of history clearly demonstrate that dictatorial regimes, whether they be Socialists, Communists, and Marxists will not hesitate to use food as a weapon against their own people in order to solidify power and impose absolute autocratic control. Food can be withheld from the masses by preventing it from being grown and harvested, by contaminating it and rendering it unfit for human consumption or by simply preventing food from being distributed to a targeted population. And there is a third strategy that the government can employ when subjugating a population by withholding food, that would be food which has a long shelf life. And this is exactly what we see, the Federal government is stockpiling survival food with a long shelf life.
The Feds Have Been Preparing for the Coming Food Shortages Since 2008
As far back as 2008, I can find evidence that the government was attempting to stockpile as much survival food as possible. These events prompted prominent brokers and key media members to advise the public to begin storing food as long as six years ago in anticipation of what is about ready to happen.
In 2011, FEMA issued a "Request for information" (RFI), in which they inquired about the availability for 140 million emergency meal kits with a shelf life of 36 months along with blankets. Please read the FEMA document, listed below in the Appendix, and then I defy the reader to not be concerned about the long-standing pattern of this government in acquiring vast amounts of food.
Collision Course with Disaster
I dare any reasonable person to tell me that the circumstantial evidence does not support the fact that Hillary will starve America into submission if she is able to steal the election.
One can hope to survive if the government allows the banks to use the MERS mortgage fraud to seize your home. One can hope to survive if this administration seizes your guns. However, food inflation coupled with declining wages is a prescription for disaster. And when add to the fact that Hillary plans to use food as a weapon, we should all sit up and take notice. I do not think it is possible to overstate the dangers covered in this article. America needs to prepare to defend themselves. The day of reckoning is coming. Buy survival food, store it and hide it! Make certain you have a way to protect your food and water. Form alliances with your neighbors. And don't forget to store your Bible in your bug out kit.