Metallic filaments and Morgellons Worms "ARE" pouring down on you.
To reduce the population the global elite are spraying everyone with Metallic aluminum and Disease causing worms
AS PROVEN BY THE FACTS.
These filaments are NOT spider webs but ARE Morgellons Disease "worms", https://www.youtube.com/watch?v=8ymqqSSodho
BECAUSE "these" fibers are alive and GROWING= AS IN ALIVE!
A REAL SCIENTIST AND HIS PROOF AND THEORIES OF CHEMTRAILS, MORGELLANS AND BLACK GOO. >start at 8:00 https://www.youtube.com/watch?v=FMwurcLr_70
Morgellons disease (MD) is a dermopathy characterized by multicolored filaments that lie under, are embedded in, or project from skin.
Histological studies established that these filaments are predominantly composed of collagen and keratin,10,11 and are nucleated at the base of attachment to epithelial cells,11 thus demonstrating human cellular origin. https://www.ncbi.nlm.nih.gov/pmc/articles/PMC5072536/figure/f1-ijgm-9-349/
This spraying on you results in lesions/sores on you known as Morgellons Disease pictured below: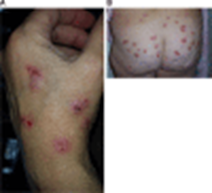 Here is a picture of the actual fibers that are now growing in your skin: